How to Use - Free Cannabis Design Resources - Images & Vectors Edition
If you haven't seen it already, we recently added a new page to our site! Resources! We wanted to provide a landing page to access all of our free downloadable content.
What are free resources?
If you have never needed assets with cannabis imagery, brace yourself this may come as a shock, they are not as abundant on freeware sites since they tend not to be a mainstream need (YET). An asset can be photography of some nugs or a vector of a cannabis leaf. These can be used for articles, thumbnails on videos, or anything you'd like. You can learn more about our licensing for majority of our design asset resources here.
How to Download our Resources
First, visit our resources page and select any of the resources. I selected a cannabis leaf vector.
First submit your email at the box to the right of the description, & click download (make sure to use an email you have access to!)
You'll be redirected to a thank you page.

You'll have an automated message sent to your email with the link.

Click through the link.
Follow the instructions on the page.
Select your resource page, once on the page, refresh the page in the browser to find a new DOWNLOAD button!
Click the link & you will be redirected to a new page for downloads.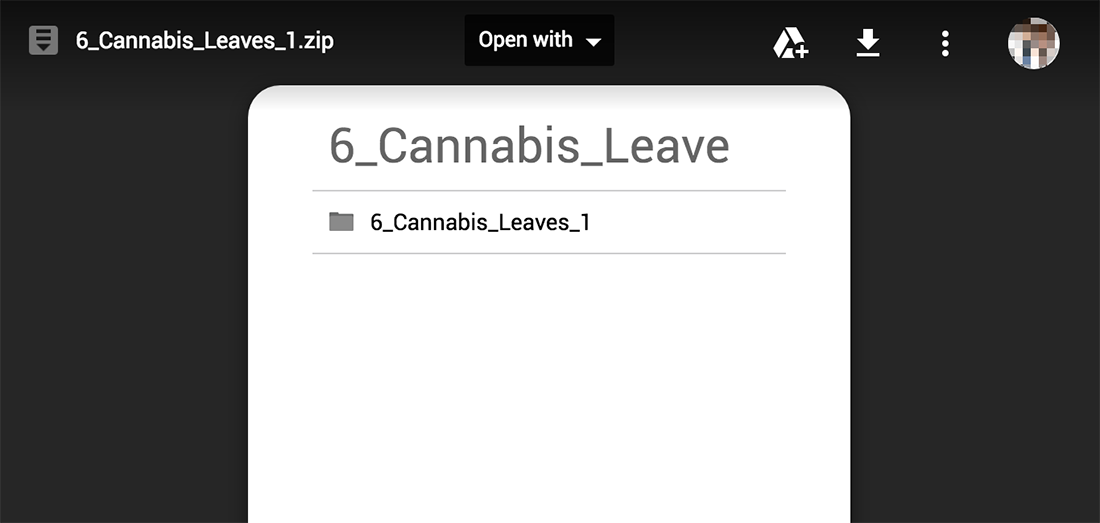 Okay, What did I get?
When you download your resource it will come in the form of a zip.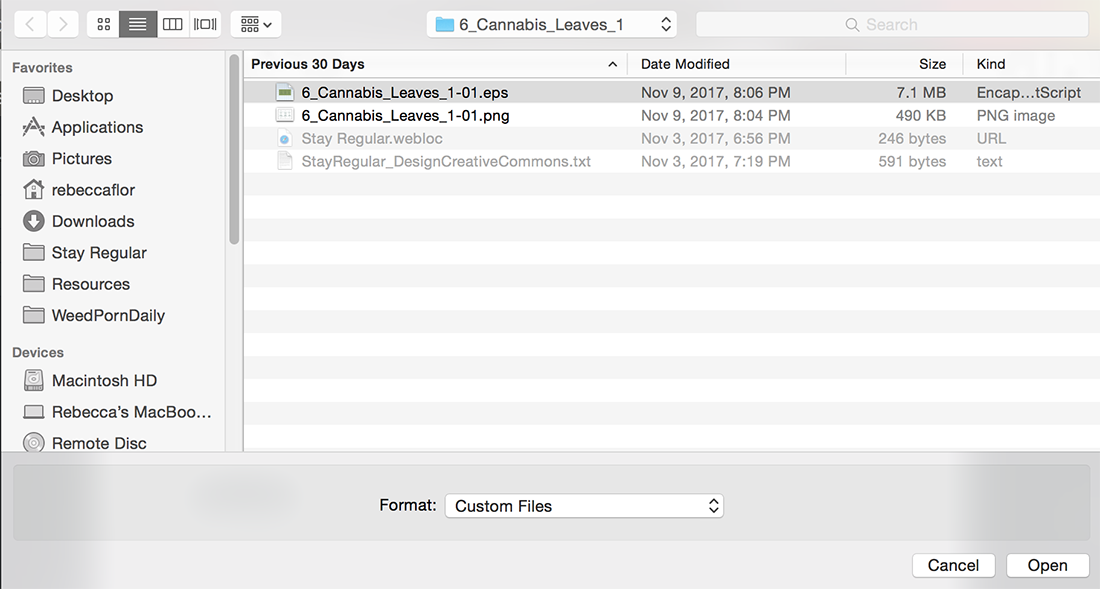 You'll have to unzip it for a folder with four files. You'll first be receiving a .webloc & .txt file. These are included in all of our packs. The .webloc you can open in your browser to get redirected back to where you received our resource, just in case you want to share! The .txt documents the attributes of the creative license for reference and well as additional data about us. :)
When you download a vector/illustration resource you will normally receive a .png & .eps files. The .png file is a transparent rastered image vs the .eps file which is an infinitely scalable vector. The .png file is great for collages, composite images for flyers or advertisements. It is large enough for 300dpi printing. The .eps file you do not have to worry about printing. You can use this for any number of projects including video and large scale printing.
---
What do I need to use the resource?
For the .png:
We recommend services such as Adobe Photoshop.
There are other alternatives that are free services that are browser based such as Pixlr.
You can also find services that are open sourced such as Photopea.
For the .eps:
The best services to handle the vector format is Adobe Illustrator and Sketch.
So How Do I Use These?
For the .png:
You can open the transparent image and cut out the leaves. From there it is up to you. When you open the file- it should look like this: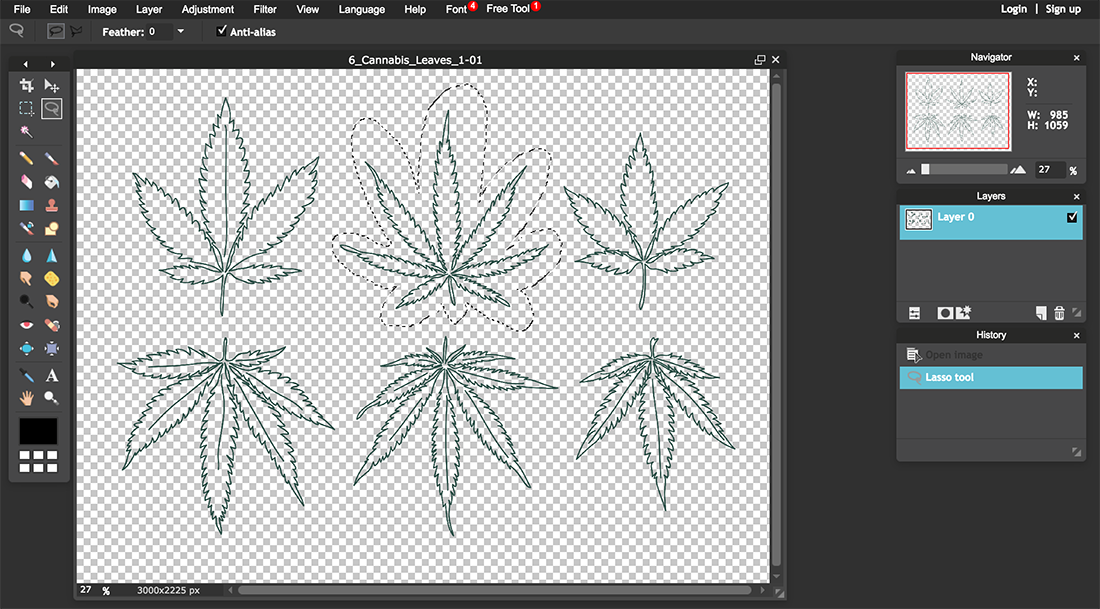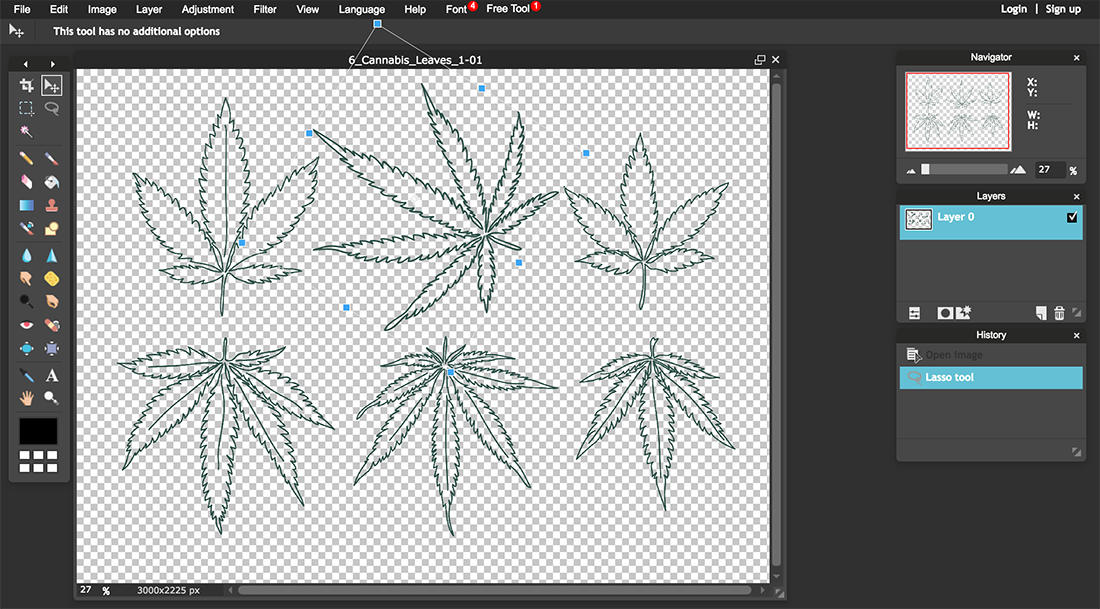 For the vector:
For infinite freedom, you will need to unlock the layers. This can be handled through the Layers panel, toggled with the little lock.

Once unlocked you will find that the entire selection of leaf vectors are "grouped" together.

You can ungroup the vectors through the Objects dropdown.

From here you can manipulate the vectors as you need!
Keep in mind, most of our resources come in packs so if you have trouble isolating a single vector object- ungroup everything! From there you'll be able to grab individual objects. Success!
---
We will be uploading all sorts of free resources from templates to vectors. Feel free to subscribe to our Resources newsletter to be notified when we post new resources! You can do so at the bottom of the article!
If you want more custom assets, feel free to reach out to us! We would be happy to help!