Visualizing Regulations - California - Packaging
The dust has finally settled with the major rush of enthusiasm towards the first recreational sales in California at legal recreational dispensaries. Dispensaries and cannabis businesses across California received temporary licenses to allow for the quick race to respond to the hungry new market of consumers ready to buy heavily taxed cannabis.
Last week we at Stay Regular officially got certified with Metrc, the service backbone of the new California Cannabis Track-and-Trace system. A lot of new regulations were being referenced and many questions were simply asking basic questions about regulation text. Long winded text documents can be difficult for many to digest and with how new everything was it was evident others were struggling with the miscommunication.
I wanted to take today to tackle packaging regulations detailed in the Bureau of Cannabis Control's Proposed Text of Regulations posted November 2017.
---
The National Association of Cannabis Businesses (NACB) recently released their proposed blanket regulations to apply to their members, brands & circles. You can read more about it here [ x ]
All of the proposed text from the NACB, BCC and CDFA can be a little overwhelming when you are faced with PDF documents over 100 pages long.
We wanted to begin breaking down the different areas of these rules and regulations to better understand what we are facing currently. Especially if you are a visual person as I am. Text mixed with graphics aid information retention in some readers.
Please keep in mind that some of the regulations are from sections pertaining only to temporary licenses. Each image is accompanied by a page in the official text [x]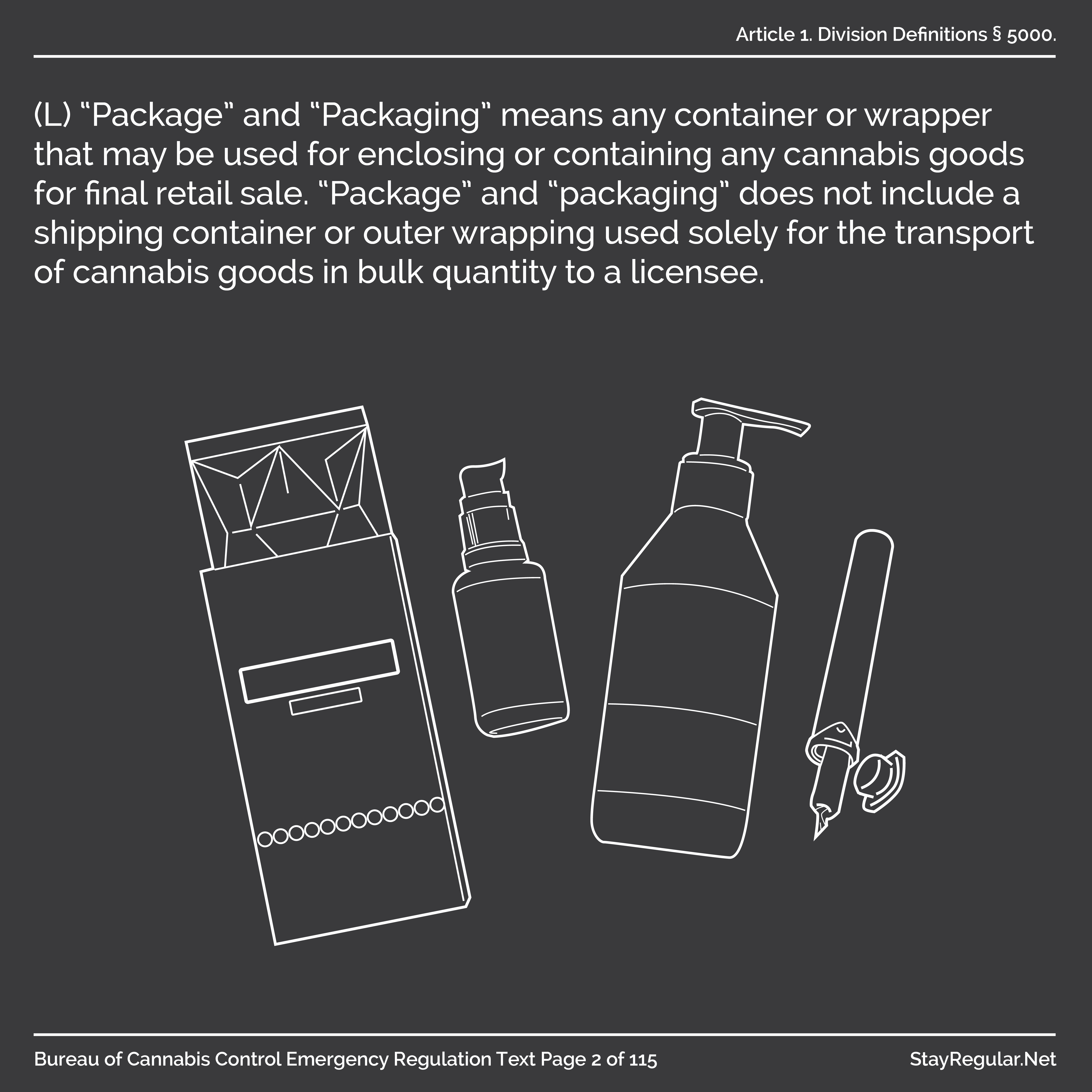 The first definitions of cannabis "packaging". Within Metrc there are a lot of defined terms such as "rooms" which can be defined by a few different types of containers & spaces. Packaging is defined for end consumer products.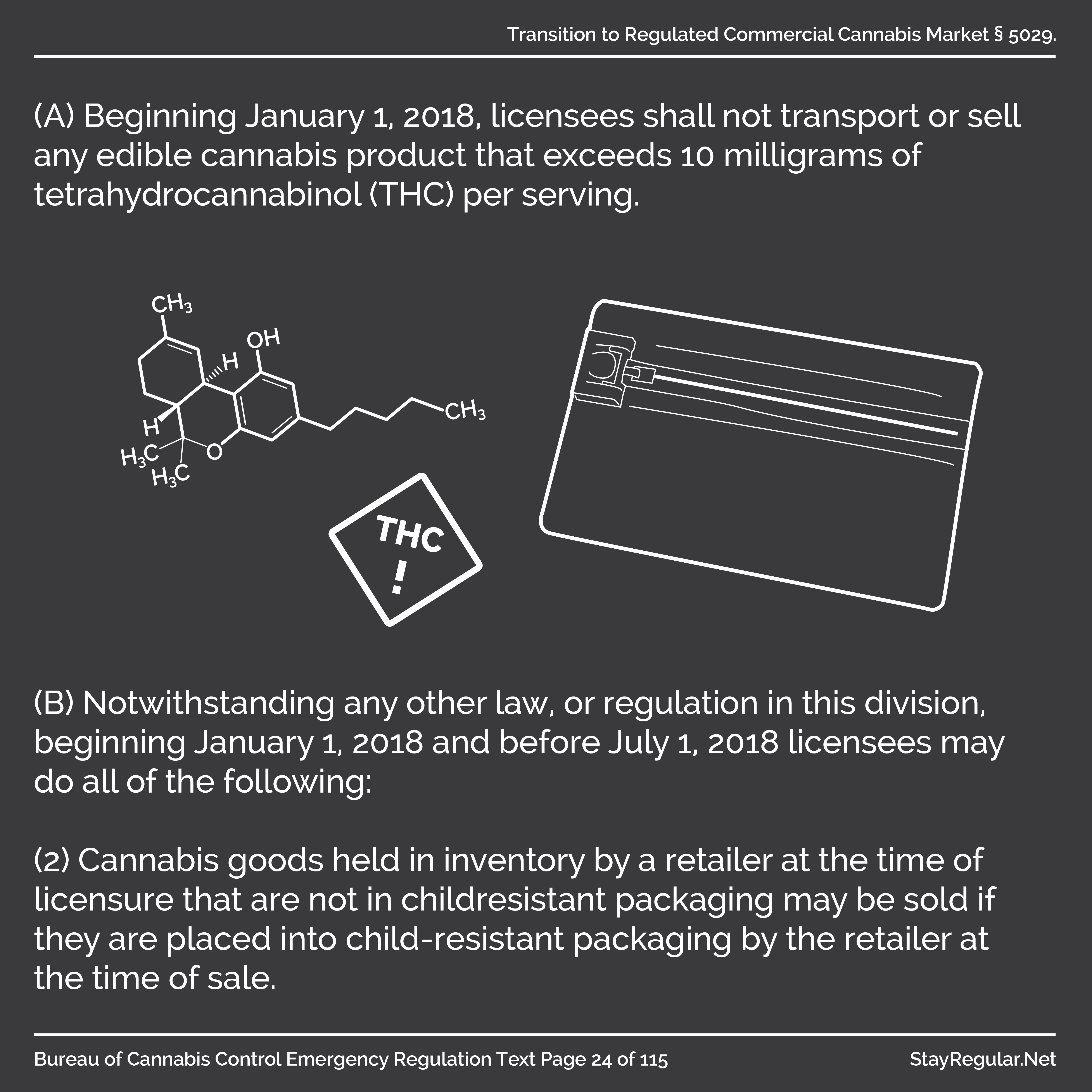 (A) An entire "packaged" edible such as a single cookie cannot exceed 100 mg of THC total. If the package has pieces such as a pack of gummies, each gummy can be no more than 10mg of THC total.
(B2) All dispensaries and cannabis retail locations will be utilizing childresistant "exit packaging" (what customers leave the store with) as well as all brands in their stores will have childresistant product packaging. Until July 2018 any non-compliant products may be sold that do not have this type of packaging but must be placed in a package that is designed to be significantly more difficult for children to open and not difficult for an adult.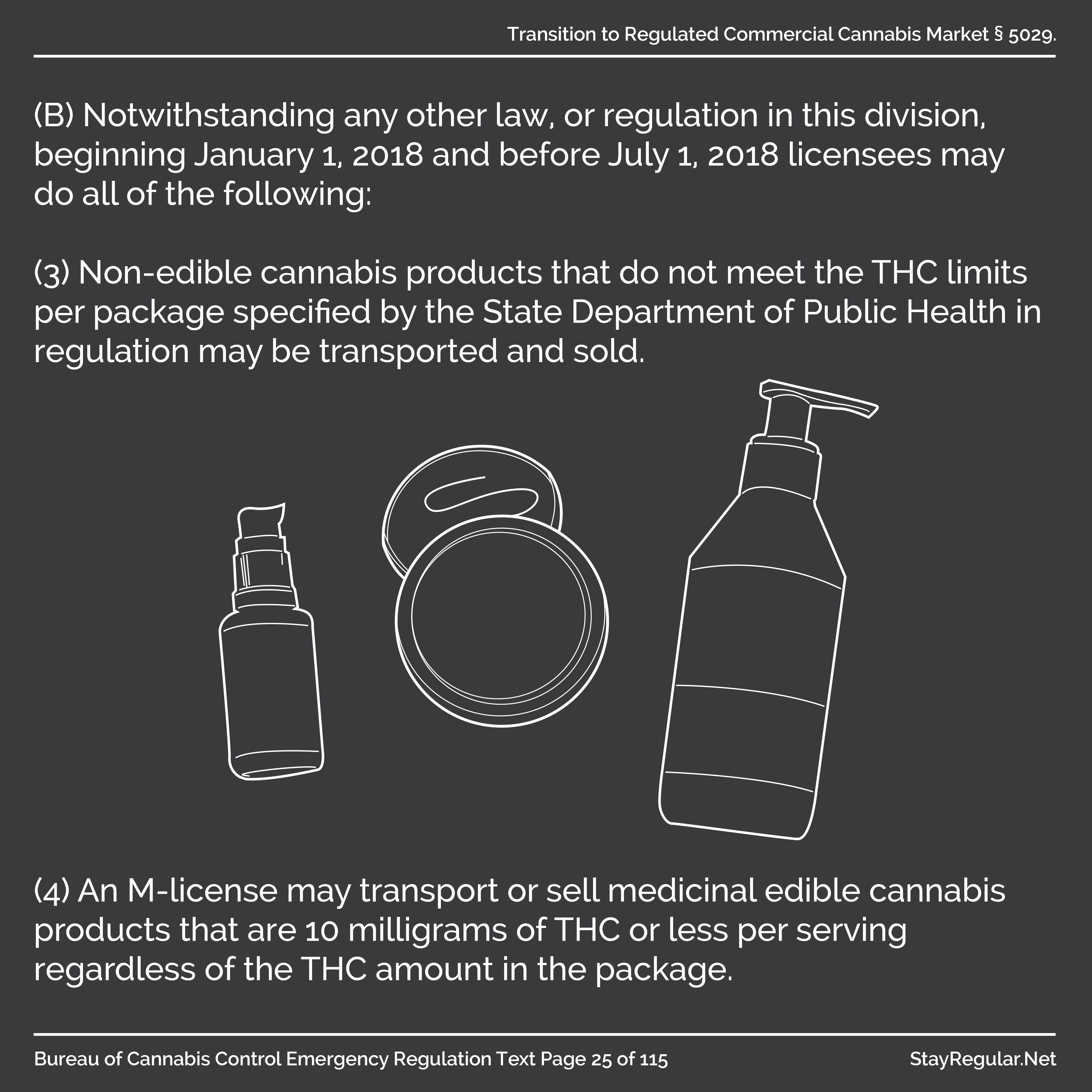 (3) Topicals such as cremes, oils and lotions that do not meet THC limits per package can be sold until July 2018.
(4) Any edibles under 10mg of THC per piece is allowed to be sold until July 2018.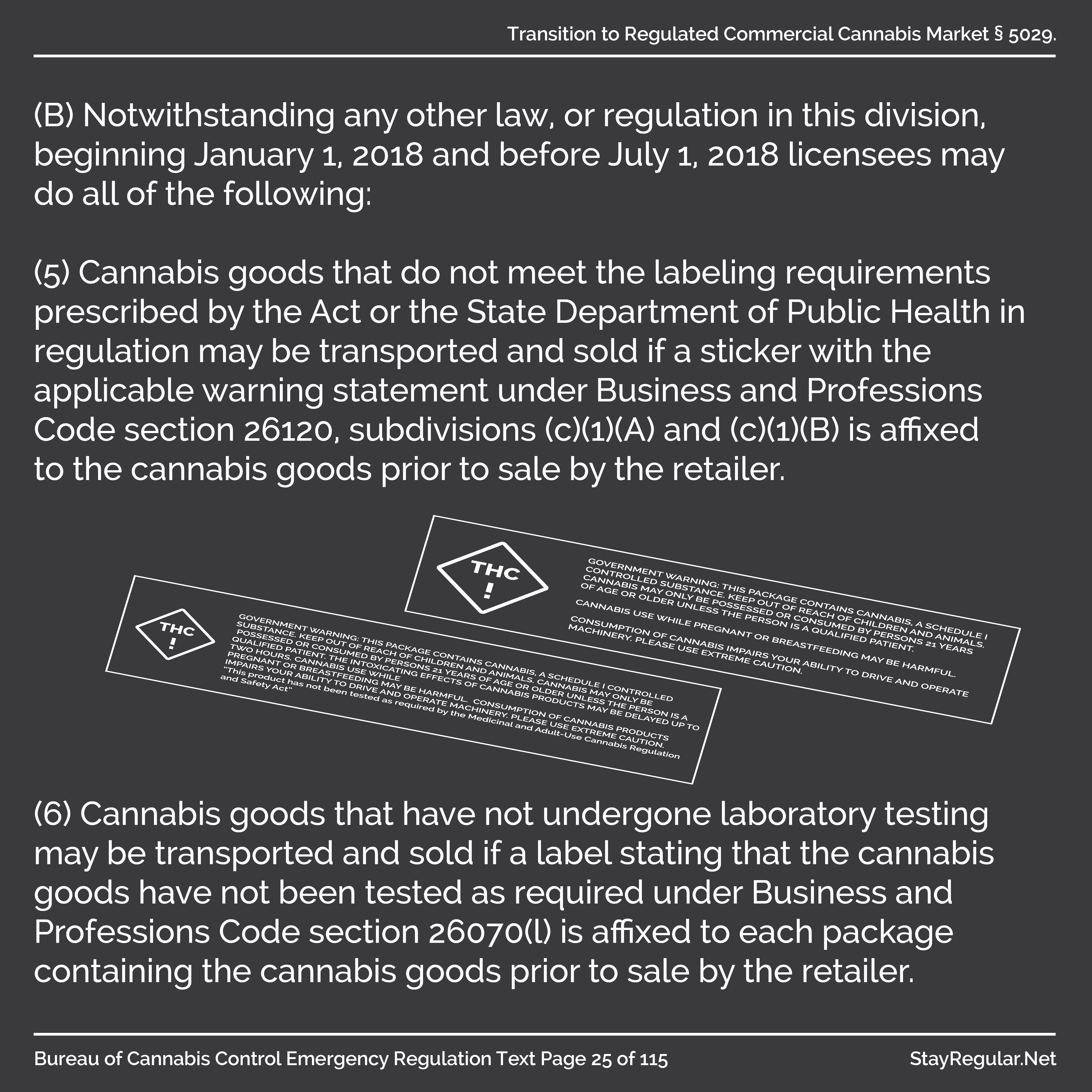 (B5) Depend on if the product is a flower product (such as nugs) ( Business and Professions Code section 26120 c1A) , or a processed product (such as edibles)(26120 c1B) and it does not meet labelling requirements- will have these warnings affixed to the package until July 2018, where it will no longer be allowed for sale.
(B6) If the product has not be tested, until July 2018, the product can be labelled as untested ( Business and Professions Code section 26070 l).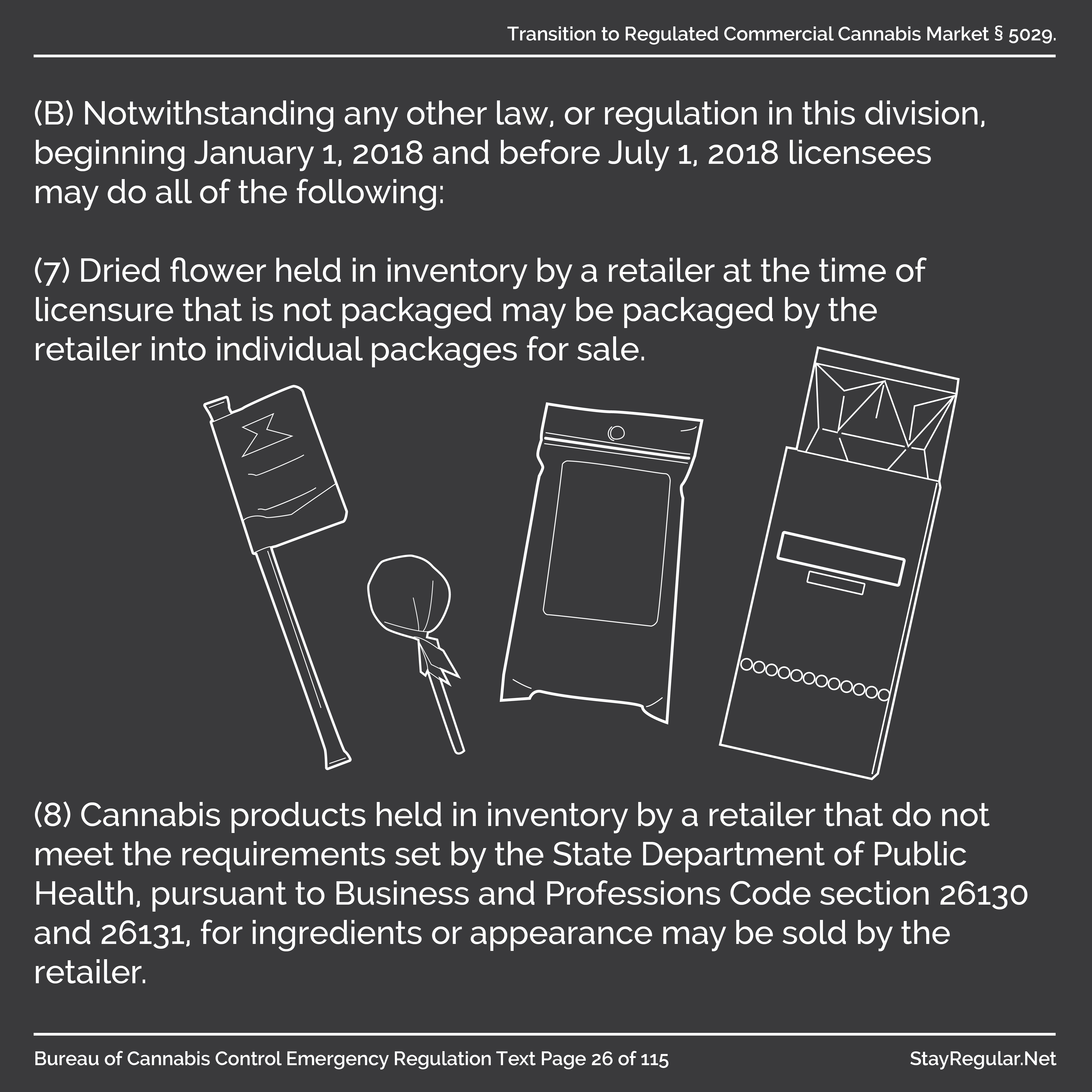 (B7) All dried flower products currently in inventory prior to July 2018, can be sold be retailers if packaged for individual sales.
(B8) Any cannabis infused products that do not meet the new requirements for ingredients & appearance may be sold prior to July 2018.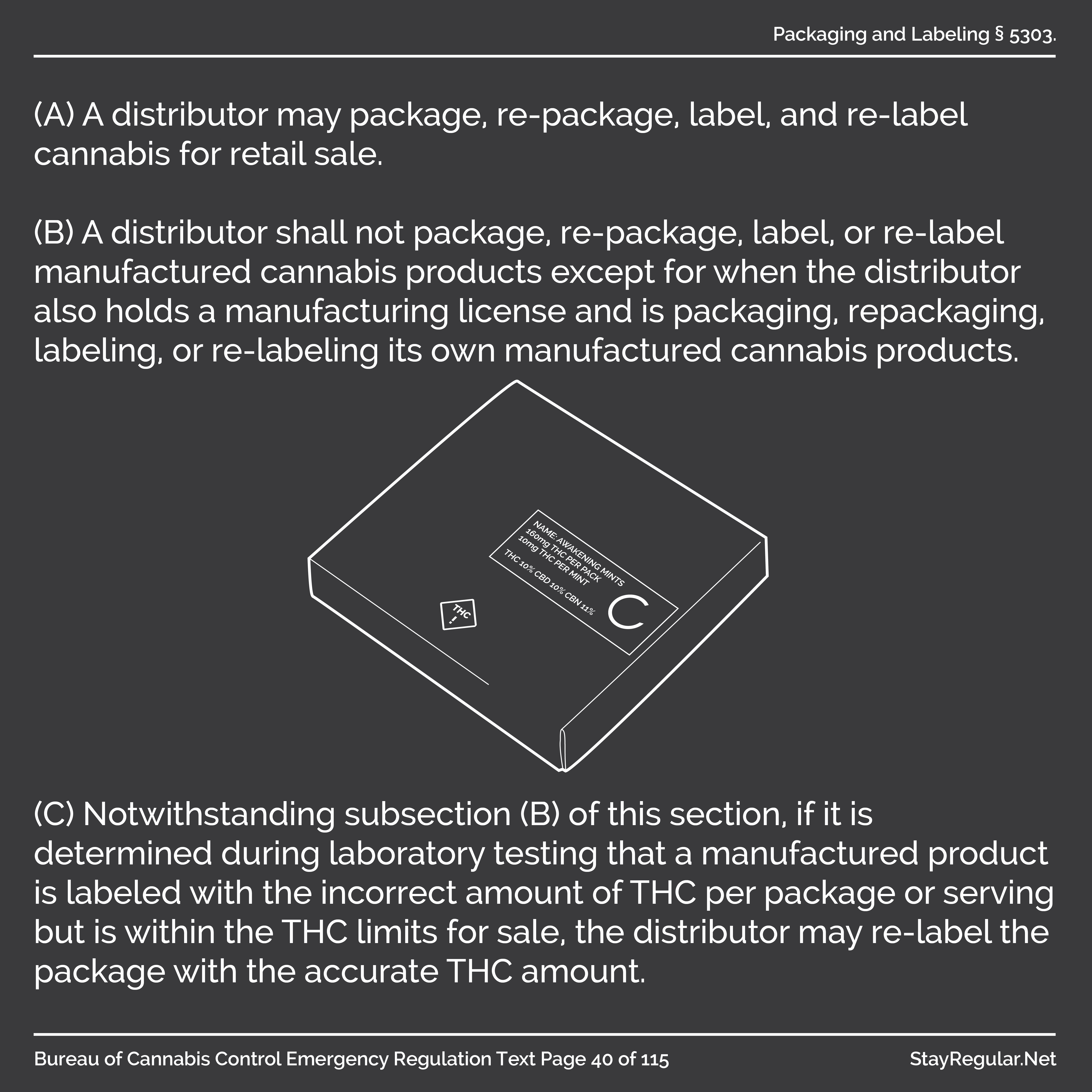 (B)Distributors must hold a Manufacturers license in order to package, re-package, label or re-label packages.
(C) The distributor must main record to assure that cannabis goods are safe for consumers prior to distribution to retail locations. If the testing is found as incorrect but within safe legal limitations, the package must be relabelled with the correct THC information.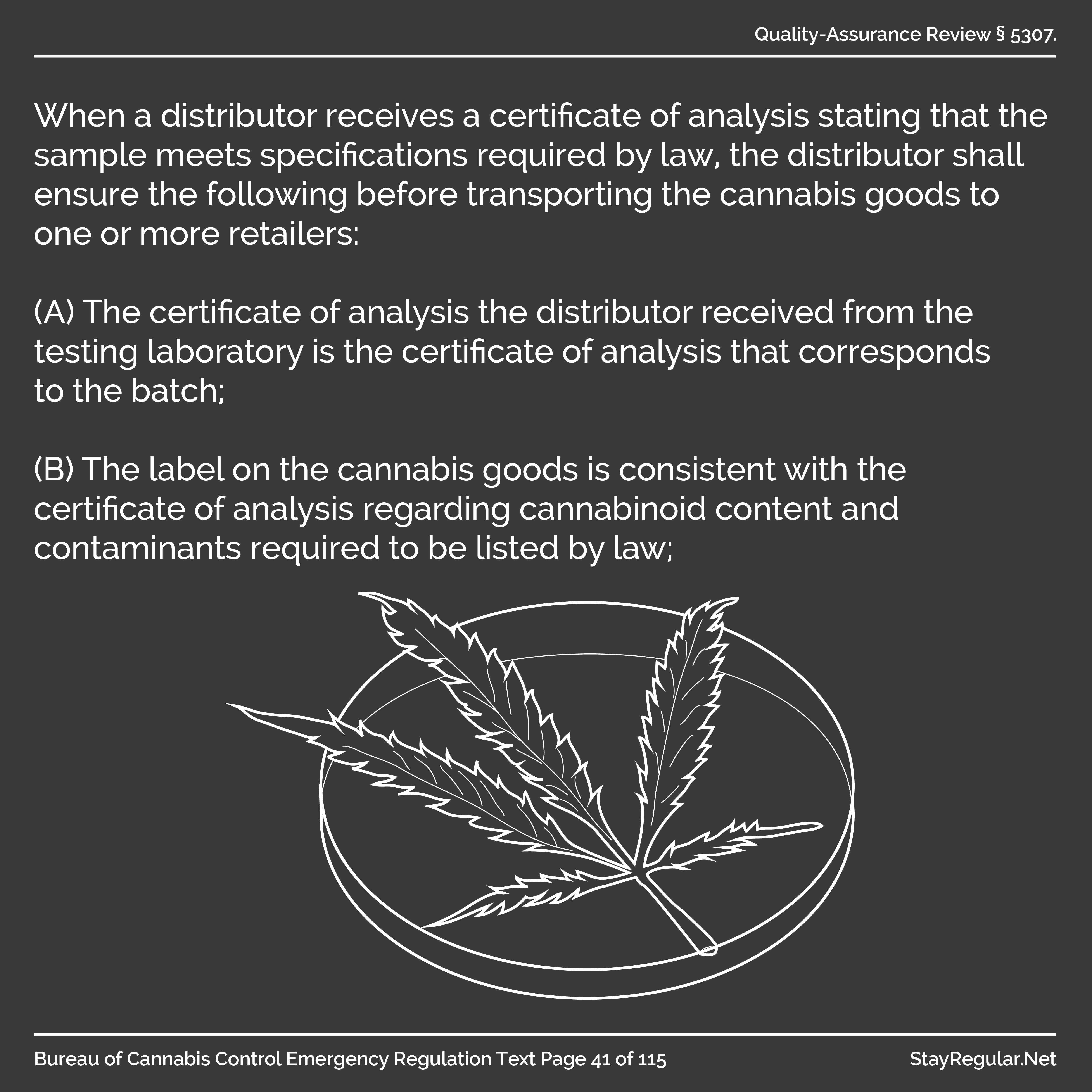 The distributor must maintain record of all product testing prior to distribution.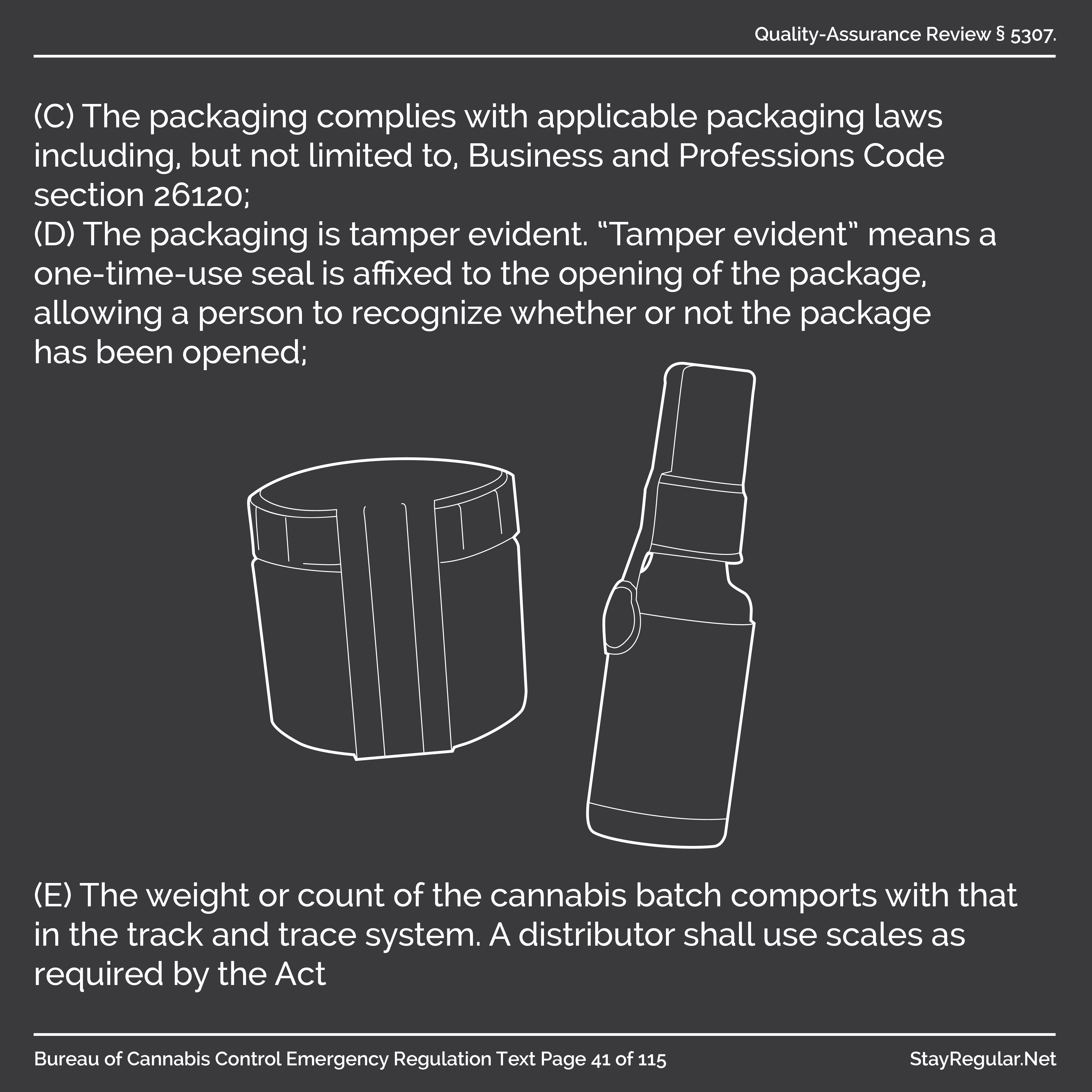 (D) To remain compliant- packaging must have tamper-evident seals on all cannabis products.
(E) All weights must be tracked with state compliant scales, the weight & count of the cannabis products must always be accurate to the California Cannabis Track-and-Trace system.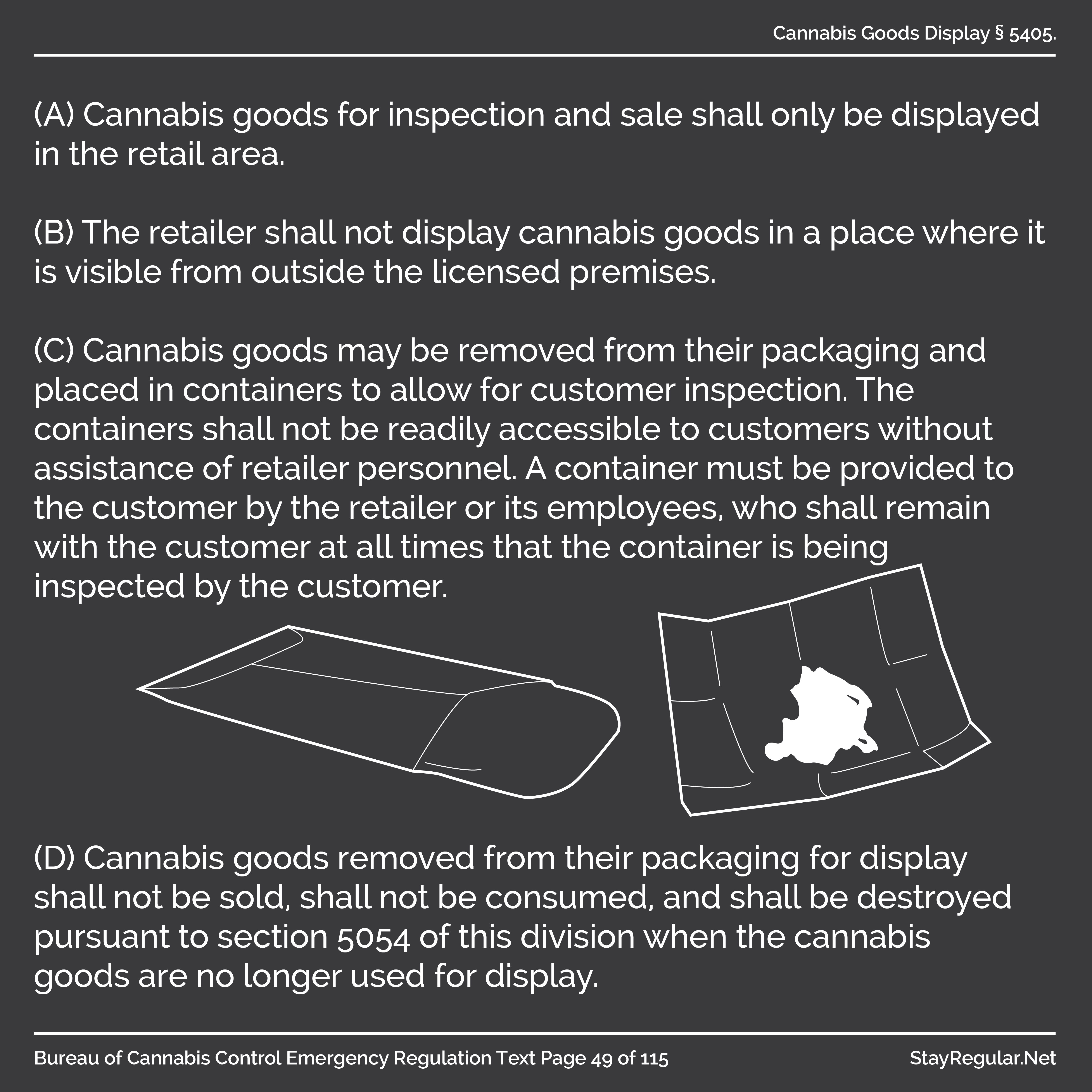 (A) Cannabis goods cannot be available for inspection or sale outside of their retail space for purchase (such as- topicals cannot be displayed in lobbies of dispensaries).
(C) Each customer at a retail location must have retail personnel assist with any handling of cannabis products such as opening and viewing samples.
---
There are a lot of new regulations to process. These are just small snippets of what is fully available online. We highly recommend you follow us on LinkedInor Instagram, or via our newsletter to be notified when we release our next visual breakdown of the new emergency regulations. Each image contains the corresponding code + page in the Regulation paper linked at the bottom of this article. Please feel free to repost, share or send any of these documents to your peers, just make sure you link them to the regulatory text. ;)
These regulations are not set in stone just yet. If you are unsure about your standings in terms of legality we can recommend legal services that specialize in the cannabis industry.
From the day this article was published January 29 to July there may be changes or finalized statements. Please check the links listed below for the information directly from the California Government.
Stay Educated, Stay Regular
Rebecca
---
Further Reading: